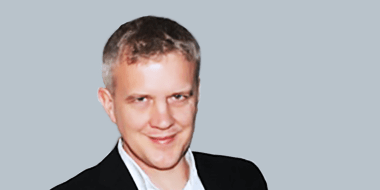 Dr. Andreas Baudry

(Director of Research & Development

)
As Director of Research & Development, Dr. Andreas Baudry is responsible for the architecture of the software, the software development process as well as the management and development of the department's staff.
Andreas has about 20 years of professional experience in the field of software development, thereof more than 10 years in a leading position. Most recently, as head of development and software architect, he was jointly responsible for the entire product portfolio of a leading provider of communication solutions whose customers included Deutsche Telekom, Telefonica, and Vodafone. Besides modern software architecture, his fields of expertise include cloud technologies, frameworks, and various development languages. He is also a SCRUM Master and Product Owner and has conducted software training for customers. As a graduate computer scientist, Andreas also holds an academic degree as a doctor of engineering sciences.