Adapters for seven
Adobe InDesign Family Plug-ins
Editorial teams benefit from additional features when working with seven's plug-ins for Adobe InDesign Family.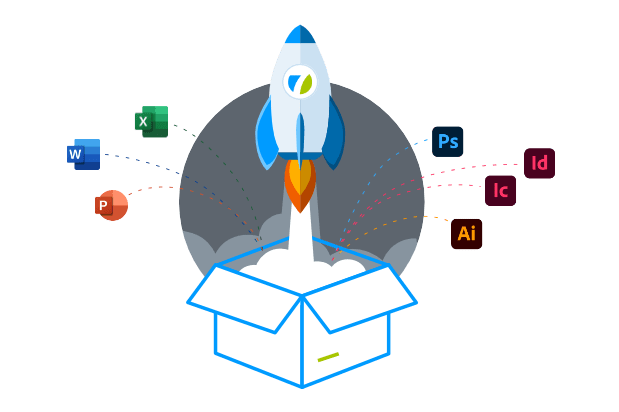 vjoon seven's plug-ins for Adobe InDesign family (InDesign, InCopy, InDesign Server) allow to drag and drop assets directly from seven's browser client to an InDesign document. In addition they extend the links panel's functionality to support linked assets on InDesign pages using URLs. Other InDesign users who, for example, work on the layout at a later point in the workflow won't even need to be logged in to seven to view and update a placed asset in the layout.
In addition, vjoon seven provides the technical basis for managing usage rights with respect to content. As an example, when vjoon seven is aware that rights have expired or are not yet available, seven can withdraw such rights of use a particular asset from the InDesign user. In such case the asset availability will be clearly marked in the layout and signal to the user that he or she must replace it.
Got to Adobe Creative Cloud Adapter
vjoon seven's adapter for Adobe Creative Cloud integrates Photoshop, Illustrator and InDesign.
Microsoft Office Adapter
This adapter makes it much easier to work with Microsoft Word, Excel and PowerPoint.
Want a tour of seven?
Request a personalized demo with one of our experts and get a guided tour through seven.