Features of seven
Organize your content
vjoon seven is your single source of truth for all your digital assets. It can manage and store any type of content using sophisticated metadata management, taking all common standards into account. Editorial teams, creative services, marketers, and any other division of your company can easily organize their files and benefit from a modern UX.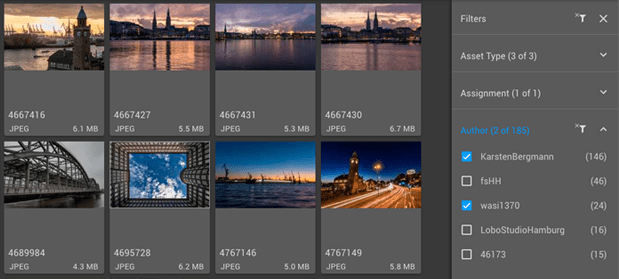 Metadata adds value to your content
Applying metadata is the first step in adding value to your content. The proper categorization is crucial if content is to be searched and analyzed. Whether it's a matter of finding the right image resolution or finding out where and when the content has already been used, the right metadata ensures that customers get the most out of their data so that content can be used efficiently both in its initial and subsequent use.
Metadata enable consistent structuring of content and businesses can manage vast amounts of content in an automated and more reliable way, all within design, policy and processing guidelines.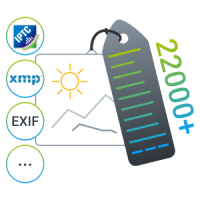 seven takes into account all common metadata standards and understands 22,000+ metadata fields.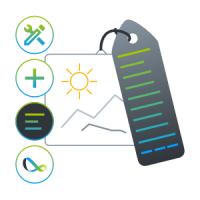 Customers can add an unlimited number of user-defined metadata fields.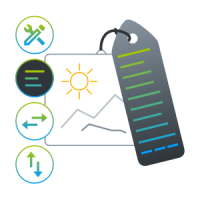 Which fields are displayed and in what order can be configured.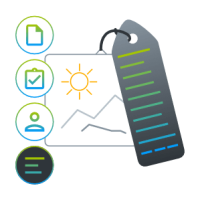 Metadata profiles group different metadata fields and thus adapt to a file type, task, role, or other property or usage.
Always find what you need
Users have various search options at their disposal to find the desired content. In addition to a full text search, users can also work with filters in the sense of "Faceted Search." In contrast to the hierarchical "drill down," properties are aggregated and offered here. While a drill-down requires the search result to be narrowed down step by step and brought to a new level of detail, with a faceted search you know which properties a possible search result can have. Both methods can be combined.
Other users may prefer to work with a classic folder hierarchy, as they are used to from conventional file servers. This type of organization in a hierarchical structure can also be mapped using vjoon seven.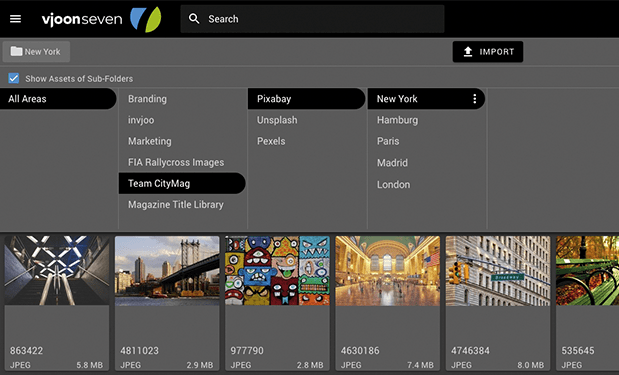 Lean UX & Theming
The modern user experience (UX) in vjoon seven uses Google Material Design, a widely adopted UX design standard. vjoon seven's UX supports "Theming" and allows customers to customize UX to individual branding needs.
Personas
Particularly for routine tasks, a lean, purpose-oriented interface saves time. For this reason, vjoon seven uses "personas", a concept that puts tools and tasks in context, while hiding those unnecessary.
Version Control
After an asset is edited, for example in Adobe Photoshop or Microsoft Word, and the user closes the document, a new version is automatically created and saved. This allows users to keep track of the entire history of their assets.
Renditions
Different resolutions, sizes or file formats are often required. For recurring renditions, such as those for the Web or for the print edition, the appropriate settings can be configured and renditions can be created automatically.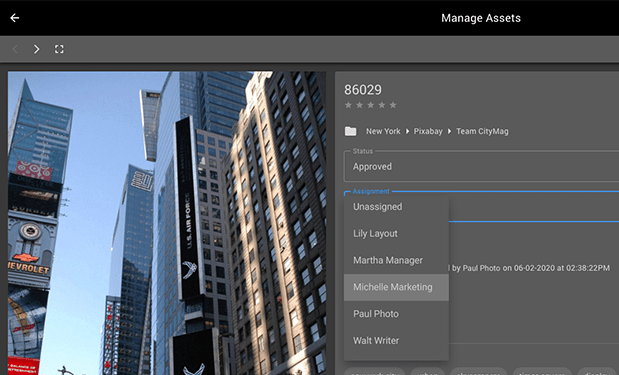 Tasks in this workflow can also be provided with deadlines and release steps. This gives the entire process a transparent, efficient structure, so all assets and the team are always up to date.

Microsoft Office/365
Teams can seamlessly integrate Microsoft Word, Excel or PowerPoint into their workflows. Thanks to the turnkey adapters in seven, you can always be sure that the latest version is ready for use.

Adobe Creative Cloud
Change a color tone in Adobe Photoshop? Adjust the figures for the annual report in the Illustrator graphics? With the turnkey adapter in seven, you can manage all files centrally and always have direct access to the latest version.

Adobe InDesign family
Optimize your editorial workflows with plug-ins for the Adobe InDesign family. Manage text and layout separately, but centrally in one place. This way your team benefits from versioning and always works on the latest version.
Share content with collections
Collections offer a different way of dealing with digital assets and sharing content. For example, selected images from a photo shoot can be collected here. The layout designer thus knows exactly which images can be used for the photo spread in the magazine.
Or the example of brand management – marketing defines the logos to be used and the company's own imagery in a collection. Other company departments, such as sales or documentation, can then use these in their respective materials.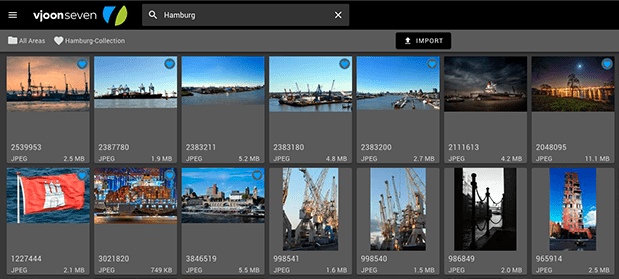 Do you know our publishing system?
K4 streamlines your workflow. Its unique integration with seven makes it essential in any publishing environment.
Learn more with vjoon TV
Do you already know our video channel? Our customers, partners and us share experience – you will get inspired.
Want a tour of seven?
Request a personalized demo with one of our experts and get a guided tour through seven.