Create content in K4
Create amazing content.
Serve all media.
Use the full range of your familiar tools and create inspiring content in K4. No matter if your story is designated for mobile, web or print – create amazing content in our central client and with Adobe Creative Cloud.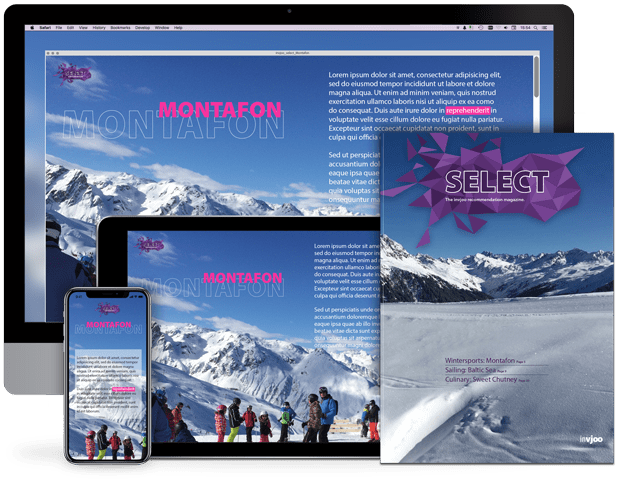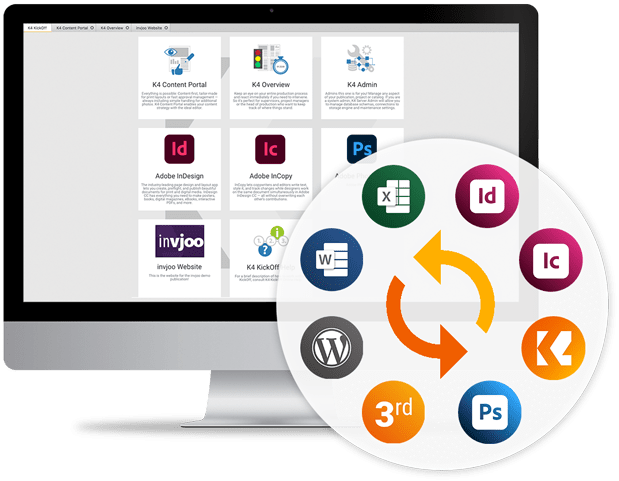 A central hub for all clients
Browser- and technology-agnostic, K4 KickOff conveniently connects various vjoon K4 modules and third-party solutions by way of a central client. It is the ideal dashboard for everyone tasked to work on content.
K4 KickOff readily adapts to your requirements. Icons, titles and descriptions can be replaced and also the configuration of the clients at startup can be set individually.
Remarkably easy to handle, K4 KickOff frees publishing staff of many of the constraints imposed by technologies at the user level.
Central
Connect all K4 clients, for example K4 Overview, K4 Content Portal or Adobe Creative Cloud and other third-party solutions in a central hub.
Independent
No need to worry about compatible browsers, versions or Java plug-ins.
Customizable
Customize K4 KickOff individually and adapt it to your needs. May replace icons, titles, descriptions and the startup configuration.
Precision tailored to your needs
The K4 Content Portal's three plug-ins, Content Editor, Web Editor and Approval Manager, provide precision-tailored clients to suit content writers, editors and executives needs.
K4 Content Portal automatically launches the appropriate plug-in according to the selected task and preference settings. It runs within K4 KickOff or in a browser-based environment.
With this powerful tool you are ready to tackle today's tasks and master tomorrow's publishing challenges.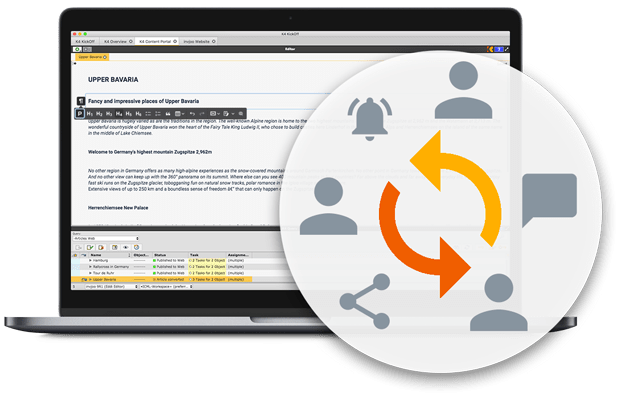 Create or edit content-first stories
Capturing and editing content-first stories is an exercise in convenience with this Content Editor.
The deep integration of WordPress with vjoon K4 allows you to preview exactly what will be displayed in the live environment.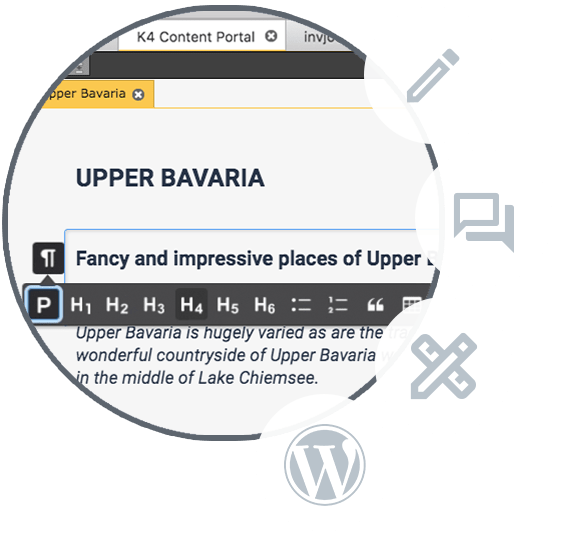 Highlights:
Create content in vjoon K4 and start a story for any channel
Enhance your team collaboration with features for comments and track changes
Benefit from context-sensitive control elements, to style and format Text
Use the K4 integration with WordPress to get a live preview of your website article and publish it fully automated
Create or edit InCopy articles
Use the Web Editor to create or edit Adobe InCopy articles. It displays all elements in the text (such as tables, inlines, footnotes, variables, notes and conditional text) supported by Adobe InDesign or InCopy.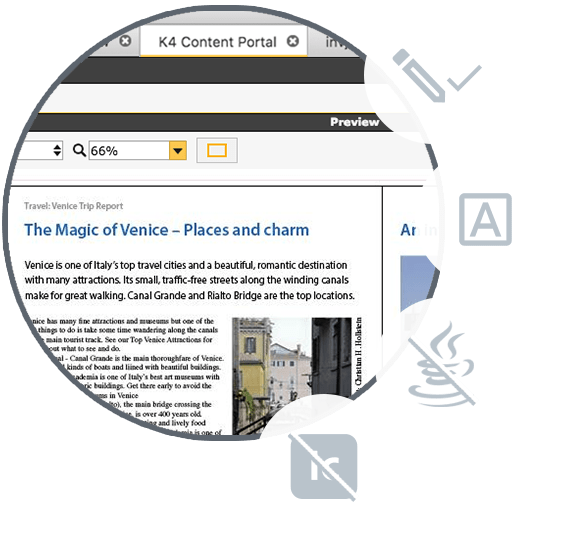 Highlights:
Create and edit content with copy-fit info
Use original and composite fonts
No local InCopy required
No Java required
Review and approve
Enable executives, marketing directors or purchasers to review layouts and content to determine if they meet specifications and their expectations.
Watch the video and get more detailed information here.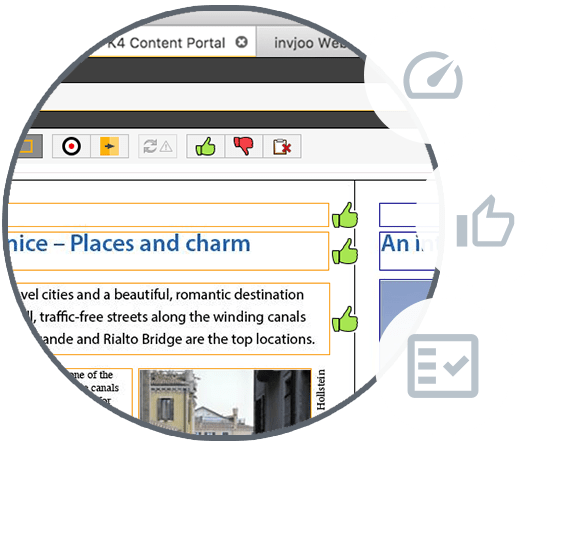 Highlights:
Speed up the review and approval of content
Review and approve each content element and the entire layout easily
Benefit from an intuitive user interface, so that all users know exactly what to do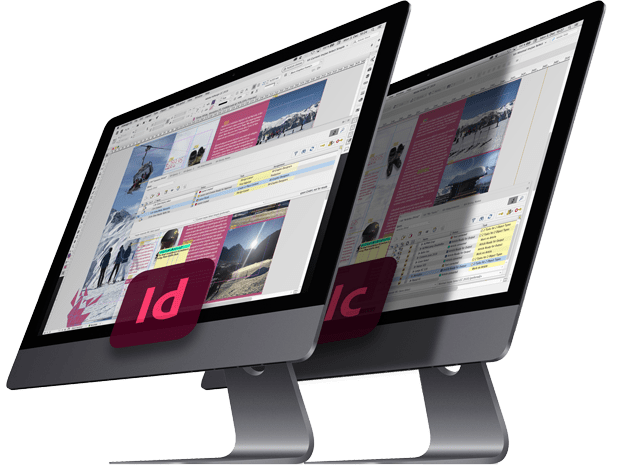 Choose familiar tools.
Use Adobe Creative Cloud.
K4 Layout and K4 Edit are the vjoon K4 clients for InDesign and InCopy to create any kind of engaging content whether it is for Print or Digital. Take advantage from a seamless integration that connects vjoon K4 directly with Adobe InDesign and Adobe InCopy. Benefit from the entire range of capabilities in Adobe InDesign/InCopy and the additional functionalities of vjoon K4 which make it much more efficient to work in a professional editorial environment. Designers can work on the layout in parallel with editors who are working on the articles. Thus you achieve lean workflows and save time.
K4 Query Panel is the inbox for your current projects. With individual filters and queries you will also find all relevant content, such as articles, images, multimedia elements or layouts. Via sticky notes, which are organized like a chat, you can exchange ideas with your team members and make suggestions or change requests.
Experience from daily productions
vjoon K4 has been optimised over the years with experience from international productions and offers many well thought-out details that facilitate daily work.
Structured Content
Reuse or republish stories to any channel easily and efficiently. Create content in vjoon K4, a system that applies inherent structure from the start.
Multimedia Content
Place multimedia elements, images, graphics, articles, or layouts (layout-in-layout) – all managed in vjoon K4.
Seamless Excel Integration
Always work with the latest figures from Microsoft Excel and allow styled tables with both numbers and text to flow into InDesign with ease.
Language Support
Variants allow you to create stories in all required languages and adjust your content to your intended audience.
Assign and Share Job Status
Easily communicate progress in your workflow to the whole team with a status update or new assignment. Communicate clear deadlines with due dates.
Real-time Communication
With "my tasks" queries, email and assignment notifications or sticky notes, teams effectively communicate and collaborate in one system.
Compare Versions
Compare the text of any two versions of an article in Adobe InDesign or Adobe InCopy and get a quick overview over all changes. Remove or keep changes in your current document.
Custom Queries and Views
Create queries to search for tasks, images or articles or any other specifications you want. Use List View, Thumbnail View or Layout View to present query results.
Full-text Search
Take advantage from a high performance full-text search, which may be combined with classic queries and filters.
Do you know our DAM?
vjoon seven is your central content hub. Its unique integration with K4 makes it essential in any publishing environment.
Learn more with vjoon TV
Do you already know our video channel? Our customers, partners and us share experience – you will get inspired.
Want a tour of K4?
Request a personalized demo with one of our experts and get a guided tour through K4.