Collaborate in K4
Collaborate boundlessly.
Communicate instantly.
Collaborate in K4 so global teams can work together and communicate in one system. Enable writing, designing, photo editing, editorial review and manager's approval to proceed simultaneously and collaboratively. Send and receive messages or emails and request content to be reviewed. Attach sticky notes to layouts for a visual communication approach.
Create all content centrally and let smart workflows do the work in the background. Whether you work directly with vjoon K4 clients or the seamlessly integrated Adobe Creative Cloud, vjoon K4 ensures that the content you need is automatically always in the right place at the right time. vjoon K4 organizes the creation, editing and delivery of all content in the sense of virtual supply chain management – efficiently and just-in-time. This kind of lean collaboration gives your team more time for content – and you reduce effort and costs.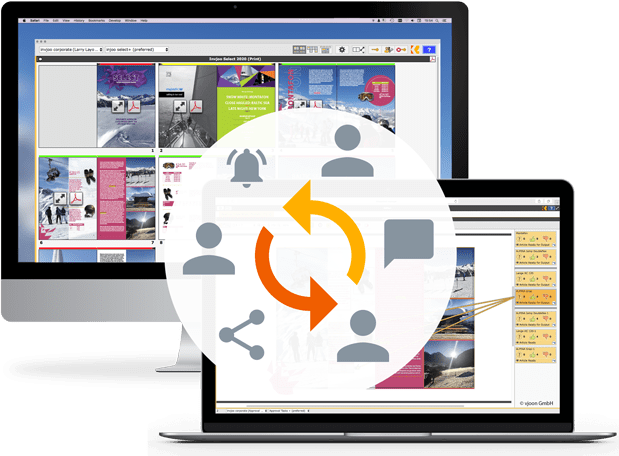 Secure access, anywhere
Enable creative processes from anywhere at anytime, through a secure internet, VPN or terminal server connection.
Instant communication
With "my tasks" queries, email and assignment notifications or sticky notes, teams effectively communicate and collaborate in one system.
Assign and share job status
Easily communicate progress in your workflow to the whole team with a status update or new assignment. Communicate clear deadlines with due dates.
Agile workflows
Manage your projects with lean workflows and predefined emergency scenarios. Control access rights, databases, licenses and server settings.
Easy approval management
Go or no-go with a quick click. Speed up promotional materials production and content marketing projects using a special browser client for executives.
Management overview
All publication layouts can be viewed with their assigned workflow status, providing instant insight into areas that need attention.
Review and approve content more easy
Enable executives, marketing directors, purchasers and the like to review layouts and content to determine if they meet specifications and their expectations. They can make their verdict known in a flash – one simple mouse-click is all it takes to give their go or no-go. This makes it so much easier to coordinate with agencies and service providers and handle content across departmental and company lines. It accelerates approvals and gets feedback that much faster, thereby saving time and cutting costs.
In many enterprises, such decisions are often made by people who otherwise rarely work with the publishing system. vjoon K4's Approval Manager is developed specifically to expedite this process.
For example, a product manager can update prices and edit descriptions and then request approval from the given line manager, who then receives an email with a clickable URL that automatically opens this layout in the browser-based Approval Manager. The line manager can view the entire layout at a glance and make the decision without further ado.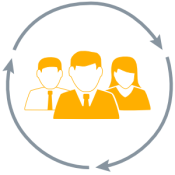 All users and locations are included within one workflow and thanks to an intuitive user interface all users know exactly what to do.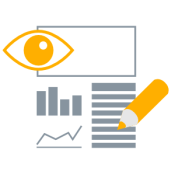 Managers and executives are working in a browser-based interface and can make changes instantly if necessary. When you collaborate in K4, approving content is more than easy.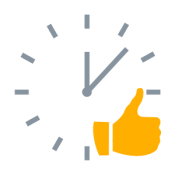 Managers and executives can approve each content element and the entire layout easily and save a lot of time.
Monitor your production process
Monitor all layouts of your publications and identify early where your attention is required. See at a glance the workflow status, whether there are bottlenecks or where everything is in the green.
When it comes to managing the production effort, you're on the safe side with vjoon K4. A password-protected Web interface displays high-resolution previews of InDesign layouts, searchable by query or issue, complete with color cues that signal where they are in the workflow.
Keep an eye on your entire production process and react immediately if you need to intervene. So K4 Overview is perfect for Supervisors, project managers or the head of production who want to keep track of where things stand. K4 Overview runs within K4 KickOff or as a standalone browser client.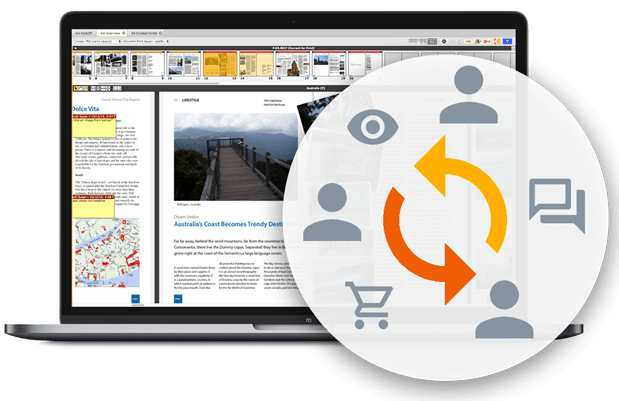 Management overview
All publication layouts can be viewed with their assigned workflow status, providing instant insight into areas that need attention.
Direct access
Accept tasks for layouts, articles and text objects directly within K4 Overview. Create printable PDFs directly from K4 Overview.
Different views
Use any of the view modes at any time to switch between different representations of the pages, such as Spread, Thumbnail, Thumbnail with details or Flip Pages.
Instant communication
Post comments on a layout page and communicate with your team in real-time
Costs per page
Calculate the cost per page to better plan and control your budget.
Secure access, anywhere
Monitor your production process anytime and anywhere via a secure Internet, VPN or terminal server connection.
Do you know our DAM?
vjoon seven is your central content hub. Its unique integration with K4 makes it essential in any publishing environment.
Learn more with vjoon TV
Do you already know our video channel? Our customers, partners and us share experience – you will get inspired.
Want a tour of K4?
Request a personalized demo with one of our experts and get a guided tour through K4.